Try this Great Recipe!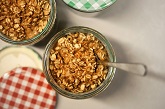 Try this delicious and simple recipe this fall!
Ingredients:
* 2 cups quick or old-fashioned oats
* 3 cups fat-free milk
* 1/2 cup canned or fresh pureed pumpkin
* 1/4 tsp pumpkin pie spice
* 1/8 tsp cinnamon
* 1 tbsp raisins
* Brown sugar to taste
* Preparation:
Place oatmeal in a microwave-safe bowl and stir in milk. Microwave on high for 2-3 minutes. Remove from microwave and stir in pumpkin puree, spice and cinnamon. Heat for 40-60 seconds, or until heated through. Stir in raisins. Sweeten with brown sugar if necessary and enjoy.
Stovetop method
Bring milk to a boil in a medium saucepan. Stir in oats and cook on a medium heat for about 5 minutes. Add pumpkin and spices and stir until heated through. Stir in raisins just before serving.
Serves 4.
Per Serving: Calories 242, Calories from Fat 47, Total Fat 2.9g (sat 0.6g), Cholesterol 3mg, Sodium 99mg, Carbohydrate 40.5g, Fiber 5.3g, Protein 13.2g

Welcome to Stemen Chiropractic Clinic


---
Other Articles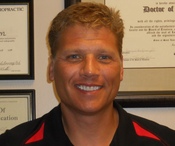 About Our Practice
Welcome to Stemen Chiropractic. Dr. Stemen is a health care professional that focuses on functional disorders of the musculoskeletal system, the nervous system and the effects of these disorders on general health. Chiropractic care is used most often to treat neuromusculoskeletal complaints, including but not limited to back pain, neck pain, pain in the joints of the arms or legs and headaches. Dr. Stemen will assess most patients through a clinical examination, diagnostic imaging and other diagnostic interventions to determine if chiropractic treatment is appropriate or if it is not. Dr. Stemen will readily refer patients to the appropriate health care provider when chiropractic care is not suitable for the patient's condition or the condition warrants co-management in conjunction with other members of the health care team. Call today for your appointment.