Try this Great Recipe!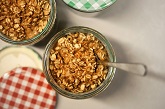 Try this delicious and simple recipe this fall!
Ingredients:
* 2 cups quick or old-fashioned oats
* 3 cups fat-free milk
* 1/2 cup canned or fresh pureed pumpkin
* 1/4 tsp pumpkin pie spice
* 1/8 tsp cinnamon
* 1 tbsp raisins
* Brown sugar to taste
* Preparation:
Place oatmeal in a microwave-safe bowl and stir in milk. Microwave on high for 2-3 minutes. Remove from microwave and stir in pumpkin puree, spice and cinnamon. Heat for 40-60 seconds, or until heated through. Stir in raisins. Sweeten with brown sugar if necessary and enjoy.
Stovetop method
Bring milk to a boil in a medium saucepan. Stir in oats and cook on a medium heat for about 5 minutes. Add pumpkin and spices and stir until heated through. Stir in raisins just before serving.
Serves 4.
Per Serving: Calories 242, Calories from Fat 47, Total Fat 2.9g (sat 0.6g), Cholesterol 3mg, Sodium 99mg, Carbohydrate 40.5g, Fiber 5.3g, Protein 13.2g

Our newsletter is created as an educational resource that provides patients with education, information and the best choices in natural Health care and Wellness.


---
Other Articles

About Our Practice
At Mellor Health Solutions our focus is on the Whole Family and their Best Health. We are a successful Health and Wellness Clinic with three decades of experience. We excel at Designed Clinical Nutrition programs for every individual in the Family and every need of the individual. We utilize the "Cellular Healing Diet" from Dr.Pompa, Nutrition Response Testing, Neural Organizational Technique, Meridian BioFeedack analysis , Nutritional supplements, Herbal supplements, and Homeopathy to restore Your Health. We are excited about of our very successful and popular comprehensive Weight loss program that we have combined with Dr.Pompas "Cellular Healing Diet". Our program is available for restoring your lean body mass, youthful looks and optimum Health. Better yet the combination of the two lifestyle changes grant you the ability to maintain not only your natural lean body mass and weight, but true Health as well! And we offer Chiropractic care that helps remove interferences within the body and helps reestablish neurological organization and balance with emphasis on identifying the underlying cause. Please contact us with any questions and for a consultation to see what we can do for you and your Health concerns. We are looking forward to talking with you soon.