30 Ways to Sneak More Fruits and Vegetables into Your Diet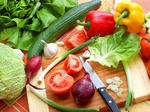 Breakfast
1.Add blueberries to pancake, waffle, or muffin batter
2.Mix raisins, diced apple, or dried apricots into oatmeal
3.Add pepper, onion, spinach, broccoli, or shredded carrot to a morning omelet
4.Make a smoothie with fruit, low-fat yogurt, and ice
5.Add peppers and onion to hash browns, and serve with a little ketchup on the side
6.Top a toasted waffle with warmed applesauce
Lunch and Dinner
7.Top a pizza with mushrooms, peppers, onions, or pineapple
8.Put a slice of avocado on a regular sandwich
9.Add mushrooms, peppers, onions, or diced carrots to spaghetti sauce
10.Place a few slices of tomato on a grilled cheese sandwich
11.Add some extra mixed vegetables to soup
12.Add celery, onions, carrots, or peppers to meatloaf
13.Replace the jam on a peanut butter sandwich with sliced bananas
14.Add apples, grapes, or raisins to chicken salad
15.Spread some cranberry sauce on a turkey sandwich
16.Top pork chops with apples, pears, or raisins
17.Roast fish under a layer of lemon, orange, or lime slices
18.Add layers of frozen spinach or eggplant to lasagna
Sides and Snacks
19.Top a baked potato with salsa
20.Use applesauce to replace half of the oil in any recipe
21.Slice a sweet potato, toss with a little olive oil, season as you wish, and bake to make sweet potato chips
22.Add mandarin oranges or diced pears when making Jell-O? salad
23.Try mixing dried fruit with almonds and a few M&Ms? as a snack
24.Mix fresh fruit and granola into yogurt
25.Add broccoli or diced pepper to macaroni and cheese
26.Blend cooked cauliflower into mashed potatoes
Dessert
27.Choose fruit sorbet instead of ice cream
28.Enjoy a baked apple stuffed with raisins and topped with a drizzle of caramel sauce
29.Dip strawberries in chocolate syrup and top with low-fat whipped cream
30.Roast pears with honey and a sprinkling of ginger
References
Gordon S. 6 sneaky ways to eat more vegetables. Fitness. July/August 1998;144.

Our free monthly e-newsletter is designed to be used as a resource for our patients in discovering and empowering them to make the best choices for their health and well-being.


---
Other Articles
Make sure to "like" us on Facebook. Also, be sure to check out Dr. Redmond's blog at www.WelcomeToWellness.blogspot.com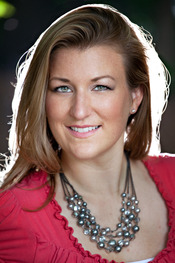 About Our Practice
We offer gentle, safe, natural, chiropractic care centered on the individual needs of each patient. Providing the best alternative healthcare and optimizing health are our goals.