16 Facts About Chiropractic Care

There is much more that goes along with chiropractic medicine besides just the adjustment of the neck and back. Here are 16 things you didn't know about chiropractic care:
Chiropractic care first made its appearance in the United States in the 1890s. D.D. Palmer is credited as the first chiropractor in the nation. The first chiropractic adjustment was performed on a janitor who was suffering from hearing loss. He later stated that the adjustment helped his ailment and allowed his hearing to improve.
Chiropractic medicine can be used to treat people with PTSD. It is thought to be part of a comprehensive approach to help trauma survivors overcome depression and anxiety.
Chiropractic care is practiced worldwide. It is estimated that there are 50,000 chiropractors practicing in the U.S., 10,000 in Japan, 5,000 in Canada, 1,000 in the U.K., 2,500 in Australia, and around 500 in the countries of Belgium, Denmark, France, Norway, Italy, New Zealand, South Africa, Sweden, and The Netherlands.
More than 80% of Americans will experience back and neck pain at some point during their lives and 85% of them will be disabled by the intense pain.
It is estimated that 20% of soldiers in the United States Armed Forces are discharged due to back pain and injuries.
The most common reason for disability and injury in people under the age of 45 is back pain and discomfort.
9 out of 10 people who have opted for chiropractic medicine says their treatment was effective in resolving their issues.
The cost associated with lower back pain in America is over $60 billion
It is estimated that nearly 30% of the American population has opted for chiropractic medicine.
In 1989, the Western Journal of Medicine stated that chiropractic patients were 3 times more satisfied with the care they received than those who received care from general practitioners.
Chiropractic care contains the fastest growing field for medical professionals.
Like doctors, chiropractors must complete an extensive level of education. An undergraduate degree, 4-years of graduate school, an internship, and passing an exam must all be completed in order to receive a license to practice.
Because the spine contains nerve endings that can reach different parts of the body, many different issues can be treated through chiropractic medicine.
Gastrointestinal issues, high blood pressure, and headaches are just a few of the other problems that may experience relief through chiropractic treatments.
Many professional athletes rely on chiropractors to remain in tip-top competing shape. Arnold Schwarzenegger, Michael Jordan, and Tiger Woods are just a few of the athletes that have been proud patients of their chiropractors. Even at the Olympic games,chiropractors are on staff to help athletes as needed.
Each day, over 10 million people receive chiropractic treatment.
Contrary to popular belief, chiropractic adjustments don't normally hurt. They involve a chiropractor manipulating the body and putting pressure on specific joints in order to reduce inflammation and realign the spine. Once the adjustment is complete, you may even feel better than you did before.
Chiropractic adjustments can help to restore balance and increase your range of motion.
There are so many reasons to choose chiropractic medicine. Whether you are experiencing back pain, frequent headaches, or anxiety; they can all be treated through holistic, chiropractic treatments.

Welcome!


---
Other Articles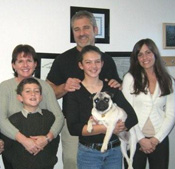 About Our Practice
As your chiropractors, our first goal is to determine the cause of your pain or discomfort. We perform a full evaluation of your area(s) of complaint using motion palpation, orthopedic and muscle testing.

Our treatments include muscle work -- the intensity of which can vary from gentle to very deep, depending on your tolerance and need -- and chiropractic adjustment(s). This may be accompanied by additional therapies such as traction, low level light laser, ultrasound, moist heat, ice massage, assisted stretching and therapeutic exercises. Information on home treatment and ergonomics are given as needed. Our adjustment technique also varies to fit your need and tolerance.

If you have questions, feel free to e-mail or call us.

Gil and Stacy Jackson D.C.