Your Gut and your Health


Leaky gut, microbiome, second brain, probiotics… what does it all mean? Learn how your gut impacts your health in a big way… and how to support healthy gut function.
"Your Gut and your Health" seminar, sponsored by BodyZing Health & Wellness, will explain the basics of healthy gut function, as well as common dysfunction and the negative health consequences.
When: Oct 25th Wednesday
7:30 – 8:15 pm
RESERVE your seat at: www.bzgut.eventbrite.com
Don't miss this opportunity as attendance is limited to the first 12 that register.
Please note there is no charge for this event.
Where: BodyZing Fitness Center, 3385 Mt Diablo Blvd, Lafayette
For more info:
Dana Hemmingsen, FDN-P
925.683.6275
Dana@BodyZing.com

Welcome!


---
Other Articles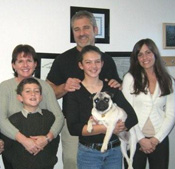 About Our Practice
As your chiropractors, our first goal is to determine the cause of your pain or discomfort. We perform a full evaluation of your area(s) of complaint using motion palpation, orthopedic and muscle testing.

Our treatments include muscle work -- the intensity of which can vary from gentle to very deep, depending on your tolerance and need -- and chiropractic adjustment(s). This may be accompanied by additional therapies such as traction, ultrasound, moist heat, ice massage, assisted stretching and therapeutic exercises. Information on home treatment and ergonomics are given as needed. Our adjustment technique also varies to fit your need and tolerance.

If you have questions, feel free to e-mail or call us.

Gil and Stacy Jackson D.C.