Stop Sinus Pain the Natural Way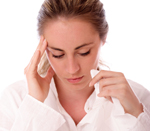 In the U.S., sinus problems are the #1 reason people see a doctor. With increasing pollution and chemicals in our environment, there is an enormous rise in the number of people who suffer various forms of nasal congestion and respiratory illnesses. If you suffer from sinus symptoms, then you know how the ongoing pain, swelling, congestion and postnasal drip can keep you from fully enjoying life.
Alternative health practitioners throughout the world recommend the regular practice of nasal cleansing using a saline solution as part of a regular regimen of health and wellness, a basic health-maintenance activity equal to flossing your teeth. Neti is a gentle, safe, efficient way to deliver a good cleansing dose of saline to the nose. This method of cleansing or clearing debris and bacteria from the nose, nasal passages, and sinuses can trace its roots back to ancient India.
As a self-care strategy, it is relatively new in the United States, but is gaining in popularity. It is both a prevention and treatment measure.
Basically, nasal irrigation is just that: cleaning your sinuses out with mild saltwater, or saline, solution. Although it may sound complicated, this easy-to-use and all-natural sinus cleansing method has many healing benefits. Nasal irrigation depends on saline solution to restore moisture to your sinuses and to lessen the inflammation of nasal membranes. A host of scientific studies show that if the saline irrigation is used regularly, it can help to thin mucus, decrease post nasal drip, and cleanse your passages of bacteria.
A nasal irrigation device called a Neti Pot is easy to use and available in natural food markets and natural home-care catalogs and websites. It looks like Aladdin's lamp or a small flat teapot. It is available in a variety of materials, such as ceramic, stainless steel and plastic.
You can purchase saline solutions specially designed for nasal irrigation. These are called "isotonic" if they are formulated to mimic the same concentrations of salt as in the body. Most over-the-counter saline solutions are isotonic. If your nose is stuffy, you might want to try a "hyper-tonic" saline solution, which has a higher salt concentration than that of bodily tissue.
Some researchers suggest that using a hyper-tonic solution may pull more liquid out of the swollen tissue of the nose, thus improving breathing. While many sinus sufferers have tried hyper-tonic solutions, most prefer using isotonic. Whichever solution you use, keeping the nose moist is beneficial for almost every nasal or sinus problem.
Bear in mind, always, that your sinus condition may change from season to season. You may have to keep trying different variations of the saline solution each season until you get the perfect mixture that allows your sinuses to stay clear without infection.
The Neti pot has a small spout that fits into the nostril. Simply rotate and tip you head over the sink and pour the solution into your nostril. The fluid rinses through your nasal cavity. After it drains through the other nostril, you spit out the fluid and repeat the process on the other side.
Your doctor may recommend using nasal irrigation once daily for prevention and two to four times a day at the first sign of a cold or sinus infection.
Beyond these benefits, nasal irrigation just feels good. If you have ever had a stuffy, congested nose for days on end, you know how wonderful it feels when you get relief and can breathe freely again. Nasal irrigation will let you do exactly that.