Start School Healthier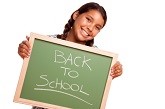 Start School Healthier
It's August and school is right around the corner. For all my mom's out there, I urge you to take the time to pack a healthy, nutritous lunch and snacks for your kids. I haven't been impressed with what I've heard about the "Hot Lunch" they serve at the Evergreen school district and it's embarassing that a community that is so in-tune with health and wellness would serve our children this awful food. Our office manager, Cyn, even said there's one meal that is literally a mound of tortilla chips with the powdered bright-yellow cheese on top. That is apalling that they are feeding this to children. No wonder kids can't focus in school.
Children should be eating 5 or more servings of fruits and vegetables each day. Vegetables are more important than fruits. A diet high in fruits is not good, because of the fructose that is in fruit, so you want to have a good balance of fruits and vegetables. The balanced plate should look like this: Half of the plate is veggies, a quarter of the plate is protein and the other quarter is starches/grains.
Make your kids lunch fun! The more fun you have with it, the more likely your kid will eat the nutritious meal you pack for them.
Ideas for Nutritious Snacks
Sliced red bell pepper & homemade hummus dip
Fresh blueberries
Fresh cherry tomatoes
Sliced strawberries and apples
Get the tiny bell peppers and they can eat them whole
Almond butter and apple slices
Unsalted mixed nuts with raisins
Nut Thin crackers with homeade chutney (recipe at bottom)
Decrease Processed Food
Processed food lacks the nutrients our bodies need and is full of sugar and fillers. These foods will only last in your childs system for less than an hour. Your kids need food that will sustain their apetite for a few hours so they can pay attention all day.
Processed foods are bad for us in large amounts because they are hard for our bodies to digest and absorb. Even if it's "organic", "natural" or "gluten free" processed food, it's still lacking enzymes and nutrients lost during processing; therefore, you want to eat these sparingly. For optimal health and performance, you want to get back to a whole food diet, eating fresh vegetables and fruit.
Filling The Nutriton Gap
Dr. Tim and I like the product called Juice Plus, which is a whole-food supplement in a capsule or chewable form. It contains juice powder concentrates from 25 diffrent fruits, vegetables and grains. This supplement is organic (USDA certification pending) and each batch is tested to ensure no toxins are in any capsule or chewie.
If your child doesn't like to eat a lot of veggies or just isn't getting enough of it, Juice Plus will give you all the benefits of eating those fruits and vegetables without having to eat them.
We are not saying don't eat fruits and vegetables, but if you are not getting the proper servings each day (which most of us aren't), this is something to fill that gap. Moreover, research shows that kids who take Juice Plus daily, eat more vegetables and fruits in general!
http://Lindsaywilson.juiceplus.com
Want to know how to get Juice Plus for free for your child?
Juice Plus & The Children's Health Study
Juice Plus has established a research study called the Children's Health Study. The way the Children's Health Study works is for every parent, grandparent, or other adult that signs up as a Juice Plus customer, the study provides the Orchard Blend (fruits) and the Garden Blend (vegetables) free to a child, teenager or college student. All you have to do in return is a couple questionaires per year to show how the health habits have changed as a result of taking Juice Plus.
So far the Children's Health Study has had over 150,000 participants. Only after ONE year on Juice Plus, parents reported their children and teenagers...
56% were taking fewer over-the counter and/or prescription drugs
60% were missing fewer days of school
61% were eating more fruits and vegetables
66% were visiting the doctor less
71% were consuming less fast food and soft drinks
71% were drinking more water
89% were more aware of their health
96% were reaping a positive benefit of some kind
http://Lindsaywilson.juiceplus.com
Tomato Chutney Recipe
1.5 lbs plum tomatoes (aka Roma)
1/4- 1/2 cup honey (to your liking)
1 tablespoon apple cider vinegar
1 teaspoon minced ginger
1/4 teaspoon ground cinnamon
1/8 teaspoon coriander
3/4 teaspoon of salt
Pinch of red pepper flakes (optional for some spice)
Peel and crush tomatoes & add to a medium-sized pot
Measure and add the remaining ingredients, stir with wooden spoon
Put on high heat, bring tomato mixture to a boil. Reduce heat to medium and bring chutney to a simmer.
Stir occasionally and continue to cook til chutney is thick (35-40 min). The chutney will be a deep beautiful red color.
Transfer chutney to a glass container and let cool 30 minutes before serving or cover and store in the refrigerator for up to a week.
Chutney can be served cold or at room temperature