Chiropractic and Infertility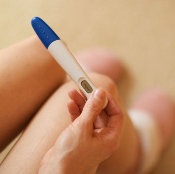 Many different clinical case studies have emphasized the advantages and wonderful results of chiropractic therapy for patients who were unproductive in their effort to bear children. Although chiropractic care is not a direct treatment for infertility, it can contribute to enhanced homeostasis and physiological adjustment therefore allowing the body to have a better level of health as a result.
In three consecutive issues of the peer-reviewed Journal of Verebral Subluxation Research (JVSR), case studies were published regarding women who were struggling with their infertility, and who opted to utilize chiropractic rehabilitation. It demonstrated a strong connection linking the utilization of chiropractic therapy and the resolution of infertility. In the following cases, chiropractic care was initiated and the outcomes were recorded and published.
In the December 8, 2003 issue of the JVSR, a case study involving a 32-year-old female whose infertility was accounted for. Since August 1999, she attempted to get pregnant. Prior to this, she had tried various conventional medical interventions such as treatment with Clomid, a fertility drug, artificial insemination, detailed fertility testing, and in vitro fertilization. Having no success, she sought chiropractic therapy in November 3, 2001. Over the next six weeks, chiropractic examination and rehabilitation were done. At this time, the patient's other concerns of headaches and pain in the lower back portion dramatically improved. In addition, the patient's estrogen levels, endometrial thickness, and cervical mucus levels also improved compared to the time when the patient's fertility specialists attempted the first in vitro fertilization. On February 17, 2002, the second in vitro fertilization was done and the patient displayed a positive pregnancy test on March 2, 2002.
Another case was about a 34-year-old woman who sought for chiropractic therapy on January 10, 2000. She had various conditions which included a history of infertility. Other than the onset of chiropractic rehabilitation, the patient made no changes in her clinical condition and lifestyle. About 4-5 weeks into the chiropractic care, the patient naturally became pregnant.
The last case was concerned with a 65-year-old female who presented with severe lumbar degeneration and low back pain. It's fascinating because she was not trying to get pregnant. When she was 13 years old, she had an accidental fall which caused in a total cessation of her menstrual cycle at the age of 18. She was then diagnosed as infertile. It was interesting to note that after four weeks of chiropractic care, she began spotting again and diagnosed with having regular menses.
In these clinical studies, chiropractic care was utilized specifically for the improvement of vertebral subluxations that were verified to be meddling with the nervous system's normal functioning. The subluxations resulted in the disruption of the patients' reproductive system. The studies showed that women who were having difficulties with infertility had some evident interference in their nervous system, as perceived by the incidence of subluxations.
The studies also noted the vast expense of treatment options for infertility utilized by many couples. The range of expenses can go from a few hundred to impractical thousands. The studies also observe that there is proof of long term risks associated with in vitro fertilization. A research published online by the American Journal of Human Genetics (November 2002) reported that "babies conceived by in vitro fertilization may be at increased risk for a rare genetic disorder that predisposes them to cancer."
According to the author, Elizabeth Anderson-Peacock, DC, DICCP, "Although chiropractic care is not a treatment for infertility, it is postulated that improvement of spinal neural integrity through specific chiropractic adjustments may have contributed to improved homeostasis and physiological adaptation thus allowing the body to express a greater level of health as an outcome." In summary, these studies state that, "The human structure is naturally healthy and to procreate. Injuries of this capability signifies malfunction on an essential level. Spinal subluxations and dysfunction in the nervous system can hinder the normal functioning of the human systems."
Article Source: http://EzineArticles.com/?expert=Robert_C_Davis
Article Source: http://EzineArticles.com/5088287

.


---
Announcement
Happy belated 4th of July to all who celebrated our country's independence, and happy and healthy birthday greetings to all of the special people who were born in July. The feedback has been positive so far for those who have already visited our new office. We will be planning an open house in the near future, but please don't wait until then to stop by and see us! I am just now starting to schedule a few educational events in the office. The first will take place on July 19th Thursday eve at 6 pm when I will be presenting a hand analysis workshop. We will be printing attendee's hands and then discussing the meaning of the different lines and formations in the hand prints that we make. It is a fun and informative couple of hours to learn more about what your unique design, that is neurologically mapped out in your hands and fingerprints, says about you. Cost is $20.00/person. Limit 18 people. Please call 650-342-3452 to RSVP no later than Monday, 7/16 to hold your space. Specials for July: Office service special this month is $10.00 off the cost of your first massage if you are new massage client to the office. Office product special this month is when you buy two Biopharma Nano products you will receive 10% off of the total retail value of the two products., a savings of up to $10.00. The Biopharma Nano products provide you with the best natural and organic ingredients to create healthy nutritional shakes to drink and nourish your body. Yours in health, Dr. Carmona, and Jami too

Other Articles
.

About Our Practice
Welcome! My mission is to provide you with the highest quality chiropractic care in order to obtain and maintain optimum health and well being. My practice is not only a healing institute, but a learning institute as well. You'll find many health and wellness related resources available in my office as well as on our web page. I offer multiple alternative, well researched, treatment methods for your most challenging needs, as well as for more routine preventative care, in a safe, friendly and comfortable environment. I look forward meeting you! Marilyn I Carmona, D.C.