Exercise and Heart Rate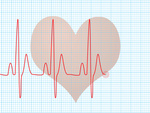 Exercise and Heart Rate
When you begin an exercise program, it is important to understand your heart rate goals. Heart rate monitoring helps you keep track of how fast your heart is beating in a beats-per-minute (bpm) form.
Knowing how fast your heart is beating during exercise can help you to pace yourself, so that you are working most effectively. Understanding the heart rate range you are shooting for will guide you in working more or less intensely.
Calculating your target heart rate
The calculation to figure out your target heart rate range is:
(220−age in years)?50% or 80%
For example for a 50-year-old person: 220−50=170?.5=85 bpm
220−50=170?.8=136 bpm
Target range: 85-136 bpm
A more general table follows:
Age
Target Heart Rate Zone
50%-85%
20 years
100-170 bpm
25 years
98-166 bpm
30 years
95-162 bpm
35 years
93-157 bpm
40 years
90-153 bpm
45 years
88-149 bpm
50 years
85-145 bpm
55 years
83-140 bpm
60 years
80-136 bpm
65 years
78-132 bpm
70 years
75-128 bpm
Measuring your heart rate
Several methods are used to determine heart rate. You may find your pulse at your wrist or neck, and count how many beats you feel in a 10-second period. Multiply that number by 6 to determine your heart rate in beats/minute form.
Watches, monitors, and cardiovascular machines also are available to help you determine your heart rate with various technologies. Some monitors are very reasonably priced.
Determining if you are working effectively
Here is an easy way, and probably the best method, to tell if you are working effectively in your target heart range. You will know if you are working hard enough during exercise, if your breath is slightly impacted by exertion while trying to carry on a conversation. If your breath is shallow, you are working too hard. You should have the ability to take a deep breath while moving.
Getting started
Whether walking, biking, swimming, or performing other cardiovascular activity, start slowly with a goal of staying in the 50% bpm zone. Gradually increase time and intensity to reach the 85% bpm zone. Keep in mind that you do not need to work very hard to stay in shape.
Note: Some medications lower heart rate as a side effect. Ask your physician if you should work at a lower target heart rate.
Reference
American Heart Association. Target heart rates. Available at: http://www.americanheart.org/presenter.jhtml?identifier=4736. Accessed February 11, 2009.
Review Date 3/09
G-0950

.


---
Announcement
Happy and Healthy February to all and Happy Valentine's Day soon to come! A great month to have a couple of articles in our newsletter about Heart Health. Also, I want to send Birthday blessings and wishes to all of the January and February birthday people out there. We are in the process of updating our computer software and lists, and have not mailed any birthday letters since the first of the year, after doing so all of these years. We have not forgotten about you and hope your day is, or was extra special. Announcing a special invite to learn more about your health through Science Based Nutrition (SBN) testing now offered through our office. Dr. Carmona will be hosting a FREE evening lecture in her office on Thursday February 16th from 6:30 pm to 8:00 pm., to discuss this valuable testing service and how it can help you. She will also be presenting a time and amount sensitive offer to those who attend. Space is limited to 15 people. First come, first serve. Please RSVP no later than February 14th (Valentine's Day). To reserve you seat now and for more information call our office and speak with Jami at 650-342-3452. Also, you can visit our new additional website at www.carmonachiropractor.com and download a free sample SBN report.

Other Articles
.

About Our Practice
Welcome! My mission is to provide you with the highest quality chiropractic care in order to obtain and maintain optimum health and well being. My practice is not only a healing institute, but a learning institute as well. You'll find many health and wellness related resources available in my office as well as on our web page. I offer multiple alternative, well researched, treatment methods for your most challenging needs, as well as for more routine preventative care, in a safe, friendly and comfortable environment. I look forward meeting you! Marilyn I Carmona, D.C.