Slash Your Blindness Risks by Changing Your Diet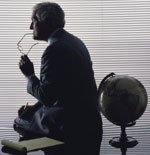 The risk of macular degeneration, a leading cause of blindness, can be significantly lowered with a vitamin-rich diet.
Macular degeneration is the result of abnormal blood cells growing in the eye which then leak fluid that damages the center of the retina and blurs vision. It is the most common cause of severe vision loss in Americans age 60 and older.
The diets and vision quality of more than 4,000 seniors were examined over the course of an eight-year study which showed that patients whose diets included foods rich in zinc, beta carotene and vitamins C and E were 35 percent less likely to develop macular degeneration, compared to those whose diets lacked any one of the aforementioned nutrients.
Moreover, those whose diets were lacking in all of those nutrients increased their risks by 20 percent.
Foods rich in vitamin E include whole grains, vegetable oil, eggs and nuts. Zinc is found in meat, poultry, fish, whole grains and dairy products, while carrots, kale and spinach are the best sources of beta carotene. Vitamin C can be obtained from citrus fruits, green peppers, broccoli and potatoes.
Journal of the American Medical Association December 28, 2005; 294(24): 3101-3107
As always, eating more vegetables is essential to a healthy nutrition plan. This is just more evidence that the vitamins your body gets from eating a nutritious diet are far more beneficial for your health than taking supplements.
In addition to the tips provided by this article, if you want to protect your eyesight as you age:
* Take fish or cod liver oil regularly. A fat found in fish called docosahexaenoic acid (DHA) may help protect and promote healthy retinal function.
* Get plenty of lutein. Lutein is a carotenoid found in particularly large quantities in green, leafy vegetables. While beta-carotene, another carotenoid, is commonly thought of as important for vision health, lutein may be even more important.
* Eat dark colored berries. Not only do berries taste great, but also the compounds that give them their dark color are great for your health. The European blueberry, bilberry, is known to prevent and even reverse macular degeneration.
* Avoid trans fats. A diet high in trans fat appears to contribute to macular degeneration.

Our newsletter is created as an educational resource that provides patients with education, information and the best choices in natural Health care and Wellness.


---
Announcement
Our January special is aiming the spotlight on Cataplex D this month. In one of the darkest months of the year we get a lot less sunlight than we do in the summer. With less sunlight reaching our skin, we produce less Vitamin D which is essential to our Immune System staying robust and ready to fight off the waves of Flu and Colds that come and go. Cataplex D from Standard Process is one a few ways to get supplemental Vitamin D for your body to use. It is the easiest and most convenient way to add supplemental Vitamin D your diet with the other main choices being Cod Liver Oil and the Organ meats of animals. SPECIAL ~ Buy one Cataplex D at Our cost and save. Good for a small or Large bottle, your choice.

Other Articles

About Our Practice
At Mellor Health Solutions our focus is on the Whole Family and their Best Health. We are a experienced and successful Health and Wellness Clinic with three decades of experience. We excel at Designed Clinical Nutrition programs for every individual in the Family and every need of the individual. We utilize the "Cellular Healing Diet" from Dr.Pompa, Nutrition Response Testing, Neural Organizational Technique, Meridian BioFeedack analysis , Nutritional supplements, Herbal supplements, and Homeopathy to restore Your Health. We are excited about of our very successful and popular comprehensive HCG program that we have combined with Dr.Pompas "Cellular Healing Diet" that is available for restoring your lean body mass, youthful looks and optimum Health. Better yet the combination of the two lifestyle changes grant you the ability to maintain not only your natural lean body mass and weight, but true Health as well! And we offer Chiropractic care that helps remove interferences within the body and helps reestablish neurological organization and balance with emphasis on identifying the underlying cause. Please contact us with any questions and for a consultation to see what we can do for you and your Health concerns. We are looking forward to talking with you soon.